About the company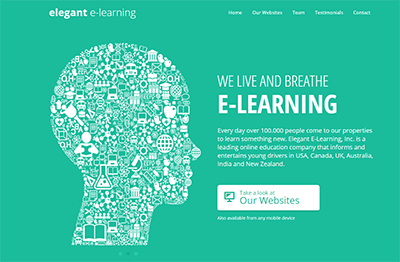 Aussie-Driver.com is a part of Elegant E-Learning, Inc., an nine-year old company with a proven track record of revolutionizing and providing free online resources for English teachers and instructors. With our parent company's site Driving-Tests.org, now in its ninth year of operations as a trusted web presence for US learner drivers, we aimed to fill a gap in the educational marketplace. Aussie-Driver.com is part of a plan to do the same for driver safety by making free learner practice tests written by experts available to anyone who wants to study, along with online copies of official study guides. To help achieve this goal, our company has also created driving permit practice sites for the United Kingdom, New Zealand, India and Canada.
About our tests
We understand how important it is to have complete transparency about our test creation methods, especially since we work with educational non-profit organisations, like schools and libraries. Our team of professional writers actually takes the time to look at each state's driver's licence manual. A test is then created using the information directly from the manual.
About quality control and updates
Once a practice test is ready, we triple-check each test before uploading it, to ensure the fewest errors possible. Additionally, once available publically, each question has a button for reporting any issues, and we encourage and appreciate feedback from test-takers, teachers, parents, librarians, or any other parties interested in driver safety. We're always happy to open a dialogue and correct any concern in a timely manner.
We understand how important accuracy is, since we base our tests on driver's licence manuals, so when manuals are updated, our questions get updated as well. We constantly monitor government websites for every state, and make certain that any test questions affected by a manual's update are immediately updated on our site, too. We also update the free electronic copy of the state's driver's licence manuals on our site, normally within a few days after the official source.
About our partners
Since Aussie-Driver.com's inception, we have made every effort to seek out like-minded driver safety and community organisations for partnerships.
We're really proud of our partnerships with libraries and academic organisations, for which we provide free pages that allow their communities to take learners practice tests. We carefully designed these pages with everything that we felt would be important to non-profit organisations that focus on community outreach for younger people studying to get their driver's licences. Our Driver Education programs are completely free of charge, update automatically, feature no advertisements, and collect no personal information. We understand how important this last feature is for our partners that work with minors, in particular, so that we can help ensure privacy and safety for all our users. So far, we work with over 80 organisations in Australia, with more joining every day. Aussie-Driver.com started this program once we realized that libraries and schools were ideal outreach points to spread our safety message to new drivers, and the response has been overwhelmingly positive. If you have any questions, or to join, please contact admin@aussie-driver.com.
If you have any questions about our partnerships or represent a driver safety non-profit that would like to partner with Aussie-Driver.com for community outreach, please don't hesitate to contact us at admin@aussie-driver.com.
About our results
We try to do better than other practice sites, in terms of providing quality tests and protecting your privacy, because at Aussie-Driver.com, we don't just care about drivers of the future – we care about people right now. We understand that the internet is inundated with sites of varying safety and effectiveness that feature driver practice tests. Often, these sites ask for personal information before allowing individuals to take the tests, despite logic indicating that most individuals who need to practice for their licence will be under the age of 18. They feature questions taken verbatim from manuals or state practice tests without any original writing. We simply strive to overcome all of these issues, by doing everything we've already mentioned on this page.
If you ever have a question about the legitimacy or transparency of our partnerships, our tests, our writing process, or any other aspect of Aussie-Driver.com, please don't hesitate to ask. We're dedicated to safety, and we want to be able to provide any answers that you should ever need.
Our results, so far, speak for themselves, from all around the world, and support the way we choose to do business. We're proud of helping people receive their drivers' permits, and of every referral that we receive. Here are just a few:
Thanks a lot, it is totally a big help! ~ ~ Aisa Villavelez Morala, Northern Territory
Thanks Aussie-Driver for the free practice tests, they've been more than helpful for getting my learners! Once I had aced all your tests comfortably I went for the real deal and passed first go. Couldn't have done it without ya 🙂 Cheers. ~ Jamieson G, WA
I really found Aussie-driver.com to be very helpful. I read The Learners guide & practiced all tests (1-2-3-Exam). I passed my learners test first go. Thank you so much, you have been a real help!~ Sharni Naidoo, Victoria
---
Our Mailing Address
Elegant E-Learning, Inc.,
1466 Limeridge Road East, Hamilton, ON,
CA L8W3J9,
Telephone: 1-888-392-2170