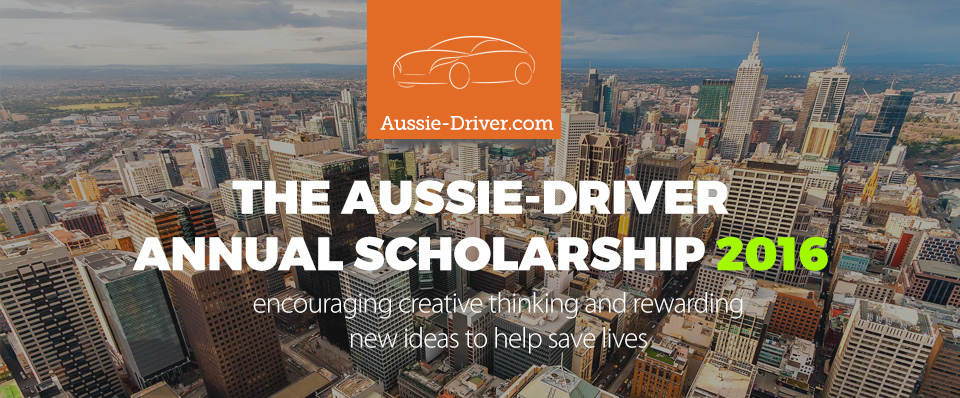 Aussie-Driver is proud to announce a new $2,500 scholarship prize for all undergraduate, vocational, and technical school students in Australia.
This scholarship is being offered to reward students for using their creativity to encourage safe driving behaviors.
How to Enter
Download Brochure
To be eligible for the scholarship, candidates will create a 2-minute video and post it online (YouTube or Vimeo are preferred), and send the link to scholarship@aussie-driver.com or via the form below. Your video will not be used for any purposes other than selecting the winner and should answer the following question:

"How can you as a new driver help to
reduce road fatalities among your peers?"
Eligibility Criteria
To enter, you must be a current undergraduate, vocational, or technical school student in Australia at the time of the competition. Students from all courses, institutions and learning streams may enter the scholarship. You must be an Australian resident and over the age of 18.
Why This Topic
Young drivers (17-25) represent 1/4 of all Australian road deaths, but these drivers are only 10-15% of the licensed driver population. A 17 year old driver with a P1 licence is four times more likely to be involved in a fatal crash than a driver over 26 years. We want to encourage creative thinking and reward new ideas that may help save lives.
Ready to Apply?
Use the entry form below to submit the link to your video. Competition ends on 31/12/2016. A panel of car experts from Aussie-Driver will judge submitted videos. The winner will be announced on 1/02/2017.
---
Our Mailing Address
Elegant E-Learning, Inc.,
1466 Limeridge Road East, Hamilton, ON,
CA L8W3J9,
Telephone: 1-888-392-2170